Ali Azimi is as much a storyteller as he is a musician and lyricist. As one of the pioneers of the alternative music scene in Iran, his music speaks to a generation of young Iranians who are looking for fresh sounds and new stories, and whose hopes and dreams are formed within a unique and difficult political and economic system. Ali is a singer-songwriter who experiments with various genres of music while incorporating persian lyrics and musical roots.
Born and raised in Tehran, Iran, Ali Azimi began his interest in music at a young age. Coming from a musical family, he self learned to play the Piano and studied classical guitar with Bagher Moazen. After studying and working in Engineering at Tehran University and the United Kingdom, Ali decided to shift his focus and follow his passion for music in his early 30s. The songs 33 from the album, Mr. Mean and Tatilat from his album 88 with his former band Radio Tehran are both inspired by this experience.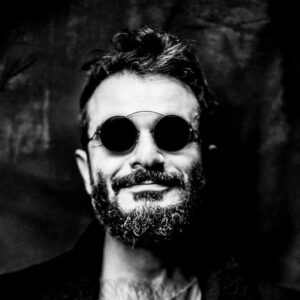 Ali Azimi went to Iran in the year 1388 (2009) and formed his first band Radio Tehran who recorded the album 88. His first solo album, "Mr. Mean" was released in October 2013. This album includes major hit songs such as "Prelude" (Pishdaramad), and "Mr. Mean" (Aghaye Past). The music video for the song "Mr. Mean" won first prize at Farhang Foundation's short film festival.
Ali released his second solo album "Till Glory Finds Us" (Ezzat Ziad) in June 2016 with hit songs such as "Come Find me Tomorrow" (Farda Soraghe Man Bia) Featuring Mohsen Namjoo and "Life" (Zendegi) based on a poem by Houshang Ebtehaj.
His latest album, "Of Love And Other Evils" (Az Eshgh va Digar Shayateen) is set to be released in summer 2019. The concept album follows the story of a relationship in an abstract form and each song describes one phase of the relationship, returning at the end to where the story began; wandering again and looking for love.
"Of Love and Other Evils" is a collaboration between some of the best musicians within the Iranian alternative music scene from around the world. Ali will be promoting this album in his upcoming tour spanning over 20 cities around the world in 2019/2020.